DAY 7
For those of you wanting to get up and go some where by train, check out
Amtrak
.
It took 19 hours from Sacramento to Portland and it only cost $125 to ride coach. It's great to walk around, see the sights from the observation car and talk with the interesting folks on the train. I met a 19 year old who is going to Marine boot camp at the end of the month. He was a construction worker installing steel studs. For a week straight he coughed up blood, that's when he decided a career change.
Before getting on the train I met a wonderful couple from Oregon. I asked them which tracks the train was coming in, and from there we hit it off. They were in Cali visiting their kids and grand kids. All 4 of us, hung out in the observation car talking and playing cards. One book that was recommended to me (that I think mom will enjoy too) is called
Pagan Christianity
by Frank Viola and George Barna. It is about the 1st century church that introduced pagan practices into the Christian faith, like celebrating Easter during the holiday for the goddess of fertility. The book talks about the practices in churches that are taken for granted as being Biblical versus what the Bible says.
Another book that the couple recommended is
The Ancient Man
by Dr. Don Chittich. It's about the wisdom that men had before the flood, because they lived to be around 900 years old.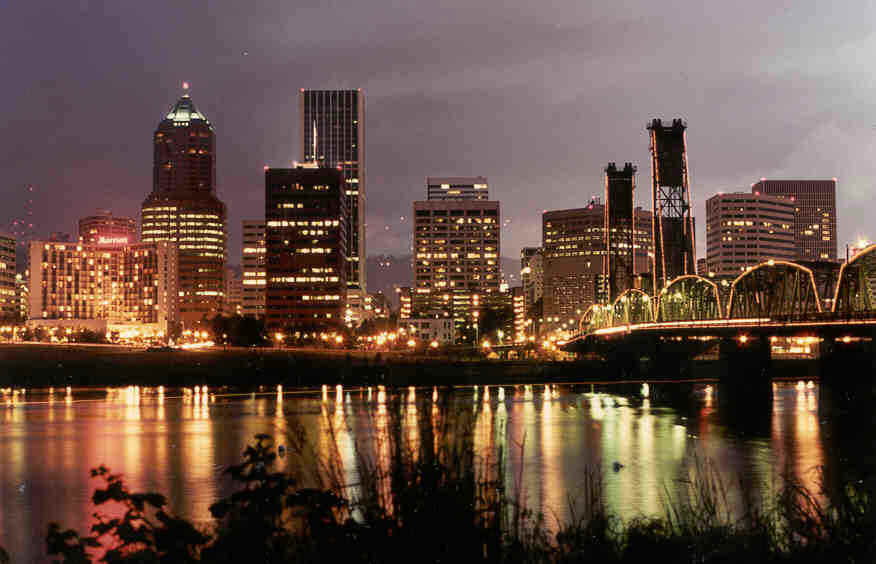 My fencing friend and fellow Academy of Art student, Mary Anne, met me at the train station in Portland. I am staying with her sister in her super cute house!
The photos online of Portland didn't do it justice. I still can't believe the number of trees here! And the train ride up here was nothing but forests for hours on end!! I love it. It is so beautiful here. Portland has 10 bridges that are lit up at night with colored lights. I can't wait to see them at night.
Last night Mary Anne took me to a very yummy wine bar and had port, wine, champagne and amazing food. There was art hanging around everywhere and a wall of wine bottles!
This weekend is the
Skagit Highland Games
in Washington! I already bought my ticket for the Oregon Country Fair so I will go to the games next year. Mary Anne says they are amazing! There's sheep dog competitions, bag pipe contests, caber toss (AKA log throwing)... Maybe next year my brother will go with me. ;-)
DAY 6
It was my last day in Sacramento, so that meant packing last minute (because that's how I roll).
I had my birthday party today!
Since I've been in San Fran since March, I just now celebrated my b-day in May with my family. We had an amazing lunch (thanks to everyone for cooking!) and presents. My 12 year old cousin made me her state fair award winning cookies! She got 99 out of 100 points for her chocolate orange cookies! She modified the recipe so I could eat them. They are the best cookies I have ever had (and that includes Manzanita cafe in Oakland). Thank you family for the $ for my Oregon trip and the chocolate bar!
That afternoon one of my cousins and I made
coconut tamales
with raisins. WOW! They where really good. I highly recommend them.
Mom and I watched Enchanted, which was cute. Then at midnight I jumped on the train for Oregon!