Today I ate like a queen. I am loving the food here!
Very easily I could get use to eating out every meal. For breakfast I had great coffee made by Mary Anne along with last nights leftovers and some fruit. I ate in the backyard that is full of beautiful green things and flowers. Then for lunch at Fleur de lie I ate a great bowl of vegetable soup and an americano. Mary Anne hasn't been introduced to
blue bottle coffee company
. I'll help her out with that when she moves back to San Fran. If you haven't either, then go to the bay area and drink some!!! It will ruin your life, because you WILL think about it entirely too much. And I am not even a coffee drinker. I like it on holidays. Back to the amazing food, at happy hour I met up with Mary Anne and her awesome British friend, Tracey, at the PQ at 1st and Madison. I had a mixed drink that tasted like mangoes and chilies. It was amazing! For an appetizer, we had warm cashews with chili powder. Yummy. Dinner was Thai with Mary Anne. I ate tom yum soup (Luke got me hooked on this). I was too full to order the pumpkin flavored coconut milk ice cream. I plan on going back there just for dessert. ;-)
I walked around downtown by myself today, checking out the city. I broke down and bought a laminated map of Portland. I have one of SF and use it often, even though I've lived there for 4 years and explored all over. I am starting to know where I am in Portland and how to get to where I am going. It really helps that the city is divided into NW, SW, NE, and SE and that there are street #'s in a grid. Someone was thinking.
All along the Willamette river I acted like a tourist.
It took a bunch of effort to take photos. I disdain tourists in my city for walking slowly then randomly stopping and looking up at the skyscrapers or holding up the line by asking questions to the bus driver. I'm shooting film, so I'll be sending the photos home to my boy friend in SF, so he can experience the trip too (and so I don't have to carry them with me).
(One of my photos! I've been practicing pronouncing the name of the river, because I want to sound like a local. I crack myself up that things like this, is important to me.)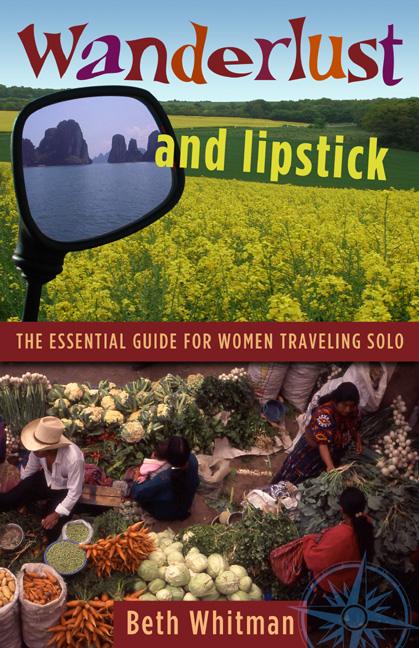 I learned this trick of sending things home while traveling from the author Beth Whitman. She wrote
"Wanderlust and lipstick"
. It's a book full of resources for traveling alone. She recommends packing light, so you are not having to constantly worry about lugging your baggage around. I brought a weeks worth of clothes, so I plan on hitting up a laundry mat a couple times. My stuff fits in a backpack that has a waist and chest strap to help out my back and neck. Then I have a canvas bag for food that I fill up for the train ride. The clothes are rolled up in a pillow case so they take up less space. And then I can use the pillow case as a laundry bag. I figure that if I forgot something I can go buy it. So far the only thing I forgot was postcard stamps.
Another thing I learned from Beth's book is photocopying my credit cards, drivers license, and passport in case I lose it or mugged. I have a copy with me, one with my mom and my boy friend. I also included the numbers of people in the area and family members in case my phone dies. On that paperwork I put my loose itinerary (I'm making things up as I go, so it's a bit vague), and a copy of my eye glasses prescription. For safety I have pepper spray and lodging lined up in advance. For my mother, I am posting updates whenever I find free internet.