Because I had such a funny sleep schedule yesterday I woke up at 5:30 am. It was light out, so I got ready and went for a walk along the water. It was surprisingly chilly today. It's a good thing I have a rain coat, long socks, gloves and pants. There were tons of commuters getting off the ferries, which I think would be so much better than riding BART!
It is really surprising how unpleasantly noisy it is in this city. There's a freeway and the train tracks right on the water front. So standing by the water, trying to enjoy the sound of the waves is impossible. One thing that has me super impressed is the
Seattle public library
.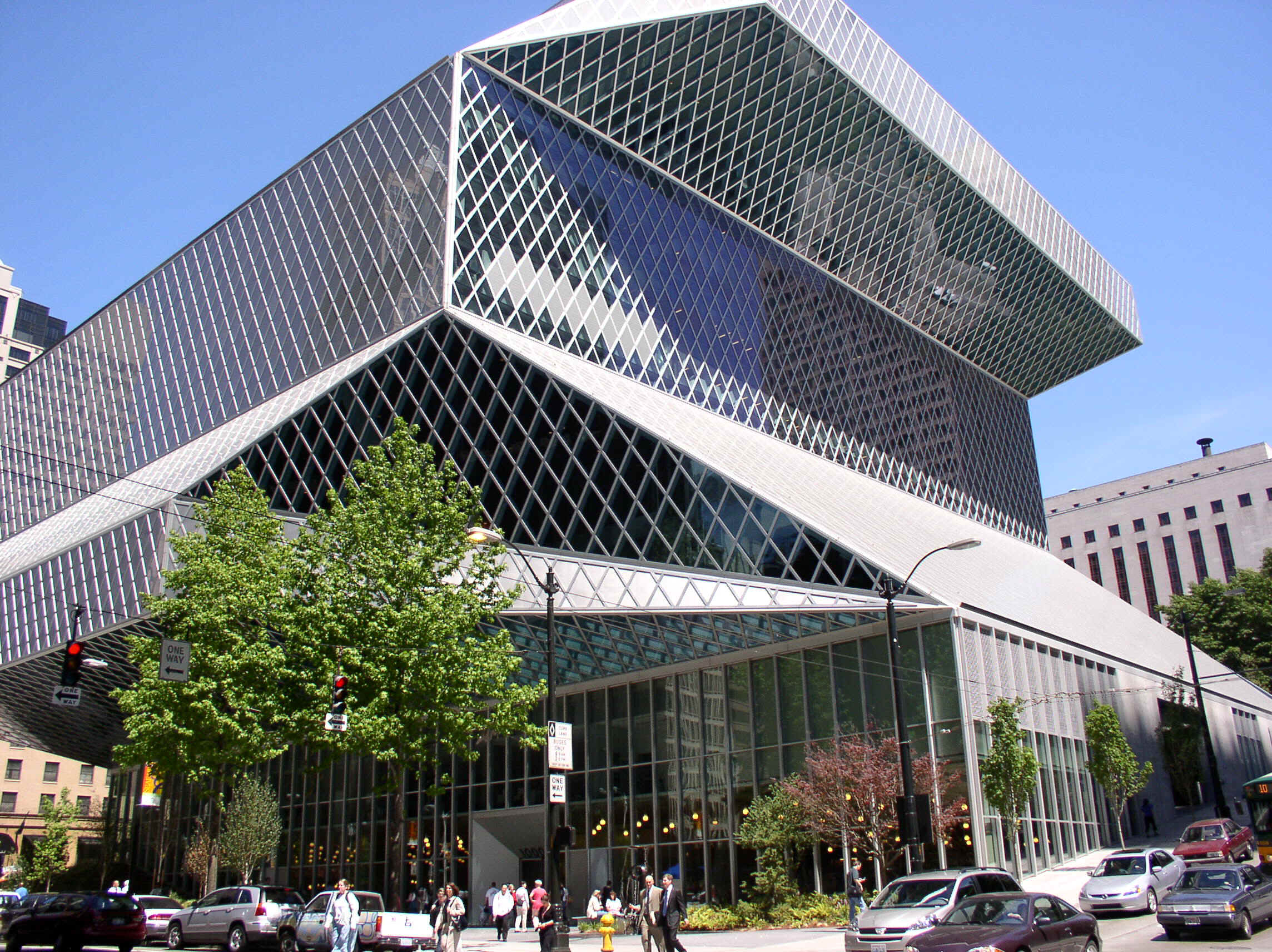 (The central library in Seattle. The most beautiful library I have ever seen!)
(It opens up several stories!! There is so much light. It is amazing!)
(There's sculptures and installations on the ride up the escalator. I never seen elaborate art or escalators in a library! This video projection of a face is by a famous artist, that I am blanking on his name. He was featured in art:21.)
I have never been in a library this beautiful, resourceful or artsy!! In the kids' section, the floor was designed by Ann Hamilton, a BIG name sculptor. It's made of recycled wood with the first line of each kids' book in the library engraved into the boards, in different languages.
(Floor in the kids' section designed by Anne Hamilton. I was so giddy seeing art by her. It was simple and powerful.)
This building is beautiful!! The building from the outside is mostly glass diamonds. The 2
nd
floor is called the chamber, because it opens up 3 stories! You have to absolutely go to their web site and look up the main branch. WOW! I am super impressed and that almost never happens.
(The meeting floor in the library is totally red, including the light. I had to remind myself to stay calm and not panic. The environment is very intense and claustrophobic.)
Back to this morning, after the walk I took a long shower, ate breakfast, then a nap (rough I know). The best part about this trip has been keeping to my goals of figuring out what I want to do when I graduate. I am 1.5 petals shy of finishing my flower, which is an extensive exercise in the book called "What color is your parachute?" It's about figuring out what your dream job looks like then how to plan steps to get it. I've also been drawing like crazy. I forgot how much I enjoy sketching with a pencil (I am easily amused). I have pages of sketches from art I've seen on this trip and ideas for future projects. My sketchbook is almost full!
I hit up SAM, Seattle Art Museum. Inside I discovered a sculpture that I've wanted to see in person. It is by Do Ho-
Suh
. He made kimono out of dog tags. I love the simplicity of the material and the strong dialog that it creates. I spent lots of time walking around it.
Back at Pikes Place market, I bought a mini loaf of banana bread that's vegan and gluten free! I am loving the Northwest for these kinds of food options. Sitting along the water, I chowed down most of the bread, along with an apple and nuts for lunch.
I found a great store!!! It is a map store. It's full of travel books, globes, old maps, new maps, globes of the stars and of the moon. It was so much fun looking through everything. The best part is that it's a pretty big store. I didn't find any imagery that I want to use for my map tattoo. I'll keep looking.
In the afternoon I checked out a couple galleries and alternative art spaces that Philip and Dana told me about (thank you two for telling me about these places!) I saw a couple things that spiked my interest at the Greg
Kucera
Gallery, James Harris gallery and Catherine Persons Gallery.
By far the most amazing installation was at the
Sayuma
Space. It's the highlight of the day tied with the public library and seeing a Do Ho-
Suh
sculpture in person. At the
Sayuma
Space there was a collaborative installation. The artists names are Carolyn
Healy
and John Phillips. The installation is called
MetamorphoM
. It was made from found objects: weights, block and tackles, and sound and video projection. The floor was old hardwood with great looking nails and the ceiling had old, exposed beams. I spent a bunch of time there, looking through the brochures of past shows. I found some more artists in there that where just as amazing.
Talk about ironic. One of the artists that I found in the brochures, I saw one of their sculptures later on that afternoon! I was looking for the galleries, when I recognized the sculpture in a window. I had to go in. It's of a paper sculpture made into cones. I need to consult my notes, but I am pretty sure it is by Cris
Bruch
.
I'll be posting later more about the artists that I as drawn to today along with images of their art.
I made it to the
Klondike
museum about 15 minutes before closing. I thought it was about the ice cream bar. It's actually about the
Klondike
gold rush in Alaska. Seattle was the main hub for supplies before heading out. It was all hands on, fun, informative and the best part, FREE!